Pastor's Welcome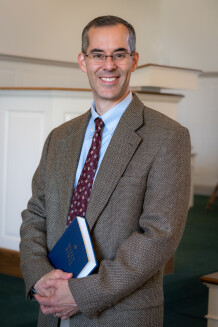 Welcome to Covenant Presbyterian Church!
Christ is the King and Head of Covenant Presbyterian Church. Our goal is to learn of Him through the Scriptures, worship the Father in His Name, and in service make Him known to all the world.
Our congregation began meeting in 1982 and is part of the Presbyterian Church in America (PCA), a denomination that holds fast to the full authority of the Bible as the Word of God. We subscribe to the doctrinal standards set forth in the Westminster Confession of Faith and Catechisms.
As ambassadors of Christ we wish to be of service to you. Please let us know of ways in which we may pray for you, or of other needs you may have, and we will try our best to be of assistance. God has freely given us the forgiveness of sin through faith in His Son, and freely we desire to give in return.
If you are not presently under the care and oversight of a local church I invite you to consider worshipping with us at Covenant. You may find additional information about our congregation and its activities in the other sections of this site. If at any point you have questions please feel free to call or write and I or any member of the church staff will be happy to speak with you.
May the God of all peace grant you comfort through the Son He loves, broken for us.
Warmly in Christ,
John P. Muhlfeld, Pastor