Staff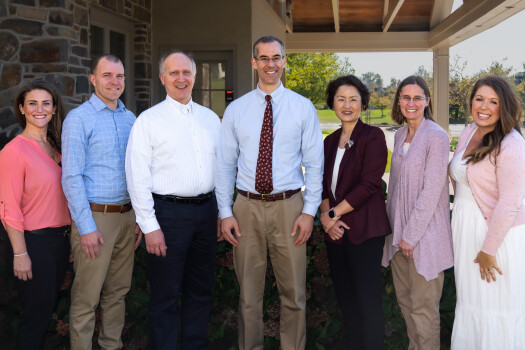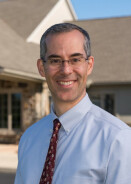 Pastor John Muhlfeld
John Muhlfeld grew up in Elmsford, NY and holds degrees from Bucknell University (B.S.B.A.), Biblical Theological Seminary (M.Div.) and Westminster Theological Seminary (D.Min.). Since coming to Covenant in 1997 he has been blessed to be a part of the church family while seeking to point people to Christ through his word. He is a member of the Candidates and Credentials Committee of the Philadelphia Metro-West Presbytery, where he has also served as moderator. Dr. Muhlfeld also serves as a part-time instructor in pastoral theology in Westminster Seminary's online program in the areas of preaching and leadership. In his free time he enjoys spending time with his wife, Sharon, and their two daughters, as well as exercise, reading, board games and movies.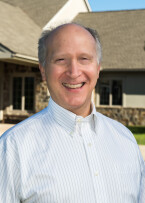 Assistant Pastor Jim Rich
Jim Rich is a native of Norristown, PA. He and his wife Lori now live in Montgomeryville and have been members of Covenant Presbyterian Church since 2001. His undergraduate history degree is from Liberty University. In 1988 he completed an M.Div. degree at Biblical Theological Seminary. Following seminary, Jim served for ten years as an Assistant Pastor, then for nine years as a history and Bible teacher at a Christian school. While serving in pastoral ministry he earned his Th.M. in Church History and later completed his Ph.D. in Historical Theology in 2015; both degrees were awarded by Westminster Theological Seminary. Jim joined the staff of Covenant in 2009 as Assistant Pastor. He likes to 'talk shop' with Lori who is a published author of a historical biography for kids. On those rare occasions when he finds himself with some extra time on his hands, he enjoys reading (history and classic literature), hiking, perusing cooking recipes, watching Australian Rules Football and going to air shows.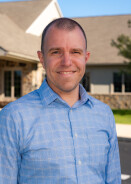 Assistant Pastor John Rohrman
John Rohrman has been on staff since 2008, having previously spent four years with a non-profit ministry serving students primarily in the School District of Philadelphia. Other previous ministry experiences included internships with the Christian Counseling and Educational Foundation (2002-2004) and with the Navigators at Clemson University (1999-2001). He is a graduate of Pennridge High School, Eastern University (B.A. in Youth Ministries), Biblical Theological Seminary (M.A. in Counseling), and Reformed Theological Seminary (M.A. in Biblical Studies). In addition to spending time with his wife, Adrienne, and their three boys (born in 2006, 2008, and 2010), he enjoys watching football with friends, playing church softball, vacationing in Ocean City, NJ, researching family history, and pretending that he is a "do-it-yourself" home repairman. Above all else, he desires that his life would reflect an understanding of and belief in the good news of Christ Jesus who "came into the world to save sinners—of whom I am the worst" (1 Timothy 1:15).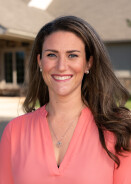 Administrative Assistant, Kimberly Roberts
Kimberly Roberts was born and raised in Harleysville, PA, where she resides with her husband, Peter, and their two children, Max and Charlotte. Kimberly has attended Covenant since 1998 and was an active participant in the youth group and its missions trips to Fairmont, WV and Cherokee, NC. She is a graduate of West Chester University (B.A. in Communicative Disorders), and is a certified Level 1 Wilson Dyslexia Practitioner. Kimberly worked in the Souderton Area School district as an instructional assistant and guest teacher before staying home to raise her children. She has been involved with MOPS since 2017 and is blessed to be part of its ministry as a steering committee member. In her free time, she enjoys yard work, crafts, sports, and vacationing in Cape May, NJ.
Administrative Assistant, Carrie Rutkowski
Carrie Rutkowski is originally from the Pittsburgh area. She came to faith as a preteen through the faithful, loving discipling of a tiny church where her neighbor took her every week. She met her husband, Steve, in the Christian fellowship at college and came to the area to work as a biochemist. When her first daughter was born, Carrie became a full-time homemaker volunteering in her kids' schools and activities and here at Covenant. She and Steve have two daughters and a son. In her free time, Carrie likes to play board games, walk outside, write notes and keep in touch with family and friends.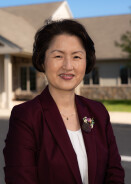 Music Director, Helen Ro
Helen Ro was born in Korea and came to America after graduating from Sung-Shin Women's University in Seoul with a major in piano performance. She also studied piano at Cairn University and came to love the organ so much that she changed her major to organ performance. Helen then earned a masters degree at Westminster Choir College in Princeton, NJ. She began serving at Covenant in 2001 and has been blessed every Sunday through the sermons, sharing fellowship with the congregation and working with a great staff. Helen's hobbies are reading, cooking, baking, camping, traveling and spending time with her husband, Dae Soon Kang and twins Nathan and Sharon.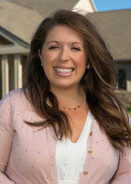 Emily Waltenbaugh, Children's Ministry Coordinator
Emily Waltenbaugh joined Covenant with her husband, Jesse, in 2016. She graduated from Faith Christian Academy and then went on to pursue a career in nannying until she had her first child. Emily has extensive early childhood experience working in both a daycare and private nanny setting. During the week Emily stays busy caring for and homeschooling their three children, Poppy, Arnie, and Goldie. Along with spending time with her family, she enjoys baking, reading, and going to the beach.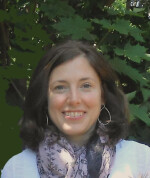 Treasurer, Laura Barbadoro
Laura Barbadoro grew up in the Midwest and later settled in the Philadelphia area after earning a degree in Business Administration with a minor in Accounting from Geneva College in Pennsylvania. She became a member of Covenant in 2003. Laura began serving as the Treasurer in 2017 and continues to be very grateful for her church family. During the week Laura is busy caring for her three children (Jake, Luke and Hannah) and she is also a bookkeeper at a CPA firm. In her free time Laura likes to be with friends and family, read and go for long walks.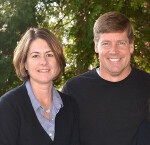 Custodians, Bob & Anna Strickland
Anna and Bob Strickland met while students at Covenant College and began attending the church after they were married in 1988. Bob works as an account manager for Unlimited Restoration, Inc. and Anna has a cleaning business. They began cleaning the church in 1999. The Stricklands have three college age children. The family enjoys the outdoors, spending time together and being involved with sports. Bob and Anna are both involved with Operation Christmas Child and have a special interest in this ministry.