Mothers of Preschoolers
Meetings are generally the second and fourth Wednesday of the month
September - May
9-11 A.M. at Covenant

MOPS is a vibrant ministry designed to nurture mothers with children from infancy through kindergarten.
It is a smart, relevant and caring network of women who help one another through resources and relationships.

Ladies are offered the opportunity to set aside the demands of mothering for just a few hours so each
can leave refreshed, rejuvenated and encouraged through discussion, interaction and instruction.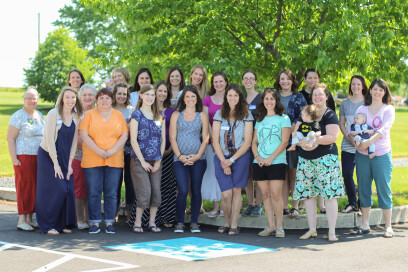 Instruction/Speakers
We cover many topics throughout the year, including mothering, womanhood, relationships, time management, homemaking and more. Our speakers come from within our church as well as from the community.
Discussion Groups
Discussion groups offer mothers the opportunity to share thoughts, ideas and experiences. This is an important aspect of MOPS and lends itself to building community, fellowship and long lasting friendships.
Mentors
MOPS includes moms from all stages of life, including women who are further along in the motherhood journey. They are available to encourage and pray for younger mothers.
MOPPETS is our childcare program.
While moms meet, children are cared for by a dedicated group of volunteers. Children are grouped by age and enjoy a Bible lesson, craft, snack and other activities. The kids have as much fun as our moms do!
Our general meeting schedule:
9:00
Drop off children
9:00
Registration and Breakfast
9:30
Welcome and Announcements
9:40
Guest Speaker OR Craft/Activity
10:20
Discussion Groups
10:50
Wrap up/Clean up
11:00
Pick up Children
Our MOPPETS volunteers make our meetings possible
We welcome loving caregivers who are willing to serve just 2 hours, 2 times a month, September through May. If you are available once a month or even a few times a year (or know someone who is), we would like to hear from you!

Registration
Please complete the MOPS registration form. You may bring it to a MOPS meeting or mail it to Covenant Presbyterian Church, 310 Covenant Lane, Harleysville, PA 19438.

You may also want to check out the official MOPS website.