Church History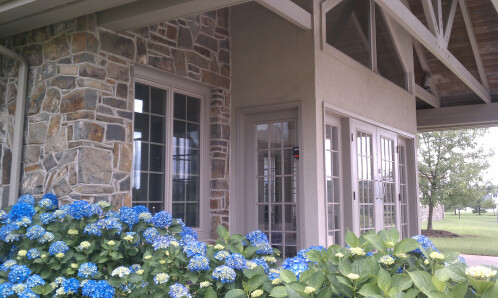 In November 1981, a group of believers began praying about the possibility of planting a PCA church in or near Harleysville. The following May, the session of the Lansdale Presbyterian Church announced a meeting for everyone interested in such a work and four months later, on September 12,1982, Covenant Presbyterian Church held its first public worship service at the Peter Becker Community in Harleysville. The organizing pastor, the Rev. David J. Brewer, was called to be the regular pastor, and Covenant became a particular church of the PCA on April 24, 1983.
Desiring to have its own facility in which to worship and engage in ministry, the congregation soon purchased property and began to develop a building plan. Financial limitations did not allow for the immediate construction of a facility, but in the interim Covenant was offered a generous sum for its undeveloped property. In the Lord's kind providence, the unexpected proceeds from the sale allowed the congregation to purchase its present site in Vernfield in 1995 and also made it possible for construction to commence on the first phase of the present building, which began in December of 1996 and was completed in the summer of 1997. Covenant held its first worship service in its new facility on July 27, 1997. Subsequent expansions of class room and sanctuary space took place in two additional phases in 2000 and 2003, and in January 2008 the congregation purchased an additional plot of land adjacent to Rt. 63, adding parking and securing a visible presence from the main road. In September of 2010 the picnic pavilion was completed and in April of 2011 the congregation purchased the final two acres of land needed to allow the potential completion of a fellowship hall and expanded parking area.
After five years of faithful service, Pastor Brewer resigned in June, 1988. The Rev. George S. Clark and the Rev. Frederic C. Putnam served as interim co-pastors while the congregation searched for a new pastor. After a two-year search, the Rev. Stephen B. Ford was installed as Covenant's second pastor on June 3, 1990.

By the summer of 2000, the congregation had grown and the elders of the church determined that additional pastoral support was need. The Rev. John P. Muhlfeld was called as an assistant pastor and was ordained and installed at Covenant on June 11, 2000. He was later called by the congregation to assume the role of associate pastor as of January 1, 2001, and following the retirement of Pastor Ford was called to serve as the congregation's senior pastor as of January 1, 2005.
On March 4, 2001 Mrs. Helen Ro began her role as Covenant's organist. After over a decade of faithful service she was appointed as Covenant's music director on April 5, 2012 where she continues to provide musical leadership to Covenant's various choirs, ensembles and soloists.
The Rev. Paul D. Frick served as Covenant's next assistant pastor from August 2005 until March 2008, and on August 3, 2009 the Rev. James D. Rich was called to serve in that role. On November 3, 2008 the church also hired Mr. John Rohrman to serve as its director of youth ministries. Continuing in that role and expanding his education and service, he was ordained as an assistant pastor on January 10, 2021.
Having now passed its 30 year anniversary, Covenant continues to give thanks to God for His abundant provision and grace. We have enjoyed growing in the knowledge of our Savior and in fellowship with one another and invite you to join us in worshiping the One who is the King and Head of His Church, Jesus Christ.