Operation Christmas Child
Each year shoe box gifts are collected in thousands of locations to be sent to children around the world in nearly 100 countries. The gift boxes are packed with toys, school supplies, hygiene items, and clothing and are sent to children suffering from poverty, war, famine and disease. In many cases these gifts are the only gift that the child has ever received. Included with the shoe box gift is a booklet explaining the gospel in the child's own language. The children and families are then invited to a follow-up Bible study program and many come to Christ through this ministry. Being part of this outreach is a very exciting opportunity and a wonderful way for each of us to be involved in mercy ministry and missions.
2023 Monthly Item Donations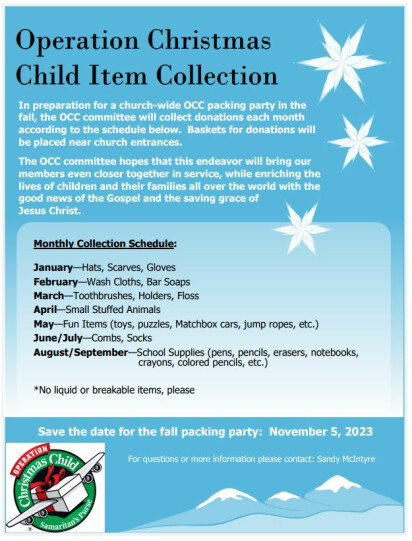 2022 Collection Week was November 14-21, 2022
Thank you to all who participated in Operation Christmas Child! National Collection Week was a great success thanks to the many volunteers and the generosity of all who contributed boxes!
A total of 5,311 boxes were received from our local community at our drop-off site. Our 62 volunteers were kept very busy all week greeting, receiving boxes, packing cartons, and loading the trailers.
It is always a joy to meet so many from our community who come and drop off boxes. We have many who return year after year and it is truly a blessing to see everyone come together and unite in an effort to spread God's love to children and families all over the world.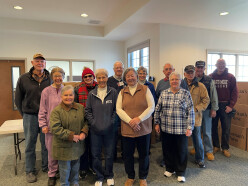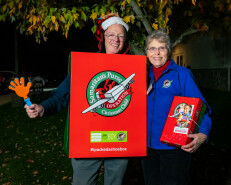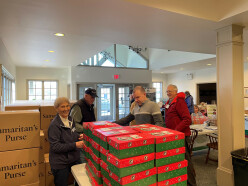 For more information, please visit Samaritan's Purse.